How to change the date of equipment after creation?
By default the Valid from date can't be changed. This is dynamic based on Installation and Dismantling to Superior Object.
If for some valid business reason that your user asked you to change it, then you can do it using the program /SAPCEM/CHANGE_EQUI_DATE
Tcode: SE38/SA38
Program: /SAPCEM/CHANGE_EQUI_DATE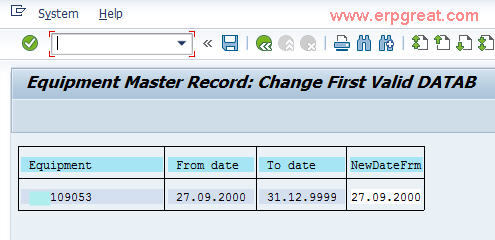 Valid Reason
We are facing one issue related to equipment master valid from date. During uploading of equipment master data the date format was wrongly uploaded in the system (example- the date 07 02 2008 is wrongly taken as 08 02 0207 in the equipment master). And strange thing is this has happened to some equipment's only. Now due to this wrong valid from date the BW report is showing error as we are not able to change this valid from date in tables.